The solution for maintaining separation of school, office and art supplies. Dividers are 3 3/4" wide x 7 3/4" high x 6 3/4" deep. The dividers clip into front shelf perforations. Minimum product width is 6". End dividers are sold separately and in pairs.
---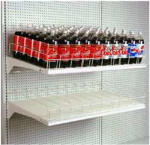 Ideal for merchandising bottled soft drinks. It is available for either two or three liter bottles. Both options hold 30 bottles and includes a sign holder that extends above the unit. Sign holder will accommodate customer-supplied signage.
Set on high quality casters, this display may be transported from one location to another when merchandised. Includes wire sign holder that can be clamped onto the rack from which customer-supplied signage may be suspended.

---

All types of potato chip style display racks and merchandisers for counters and floor
---

Wire shelves, baskets and more for Grid Displays and Wire Grid Systems
---

---

What is happening in your store while you are not there?

Display magazines or other literature with this easy-to-install rack. Install by placing welded hooks over the open tubing of an end frame. Contains four individual pockets to display multiple magazines or other publications.
---

The Wire Wine Display is capable of holding several varieties of wine bottles. The two top slanted stationary shelves facilitate the consumers ability to see the labels of the wine bottles that may be stacked in the wire bins below.
This display requires minimal space, and it offers an organized display of fine beverages. This display also includes 11/4" metal tag mold. Load capacity is 450 lbs
---

Four Way Island, I Shaped, H Shaped, and T Shaped wire grid island type displayers for all types of merchandise. One good thing about these types of displays are they are see through so shoppers can get a better view of your whole store.
---

Many sizes available in 48" heights, 60" heights, and 84" heights, with widths available in 12" widths, 24" widths, and 48" win colors white and black
---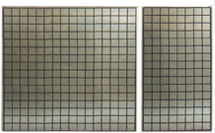 Used to create all types of wall and island merchandisers and displayers.